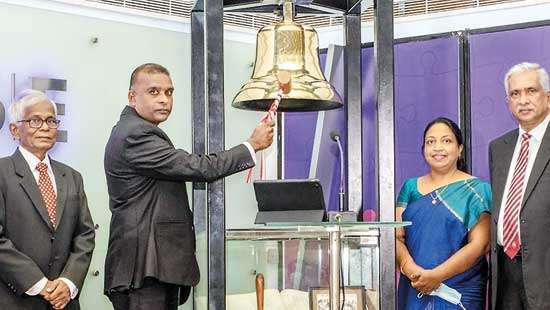 ---
From left to right: Rajeeva Bandaranaike, CEO of CSE, Chairman / Independent / Non-Executive Director of Myland Developments Limited WD Premachandra, Managing Director / Executive Director of Myland Developments Limited Nalin Perera, Executive Director of Myland Developments Limited Iresha Dissanayake, Independent / non-executive director of Myland Developments Limited Ajith Alahakoon, CSE CRO Renuke Wijeywardhane and managing partner of Atarah Capital Partners Rohan Senewiratne
Shares of Myland Developments Limited started trading on the Colombo Stock Exchange (CSE) yesterday.
The shares were listed on the board of directors of Diri Savi of the CSE in the sector "Real estate development". The occasion was marked with a special bell ringing ceremony.
Representative Myland Developments Limited, Chairman / Independent / Non-Executive Director WD Premachandra, Managing Director / Executive Director Nalin Perera, Executive Director Iresha Dissanayake, Independent / Non-Executive Director Ajith Alahakoon joined the event.
Financial advisers and managers of the issue, Atarah Capital Partners was represented by managing partner Rohan Senewiratne.
The CSE was represented by Managing Director Rajeeva Bandaranaike and Regulatory Director Renuke Wijayawardhane at the event.
CSE CEO Rajeeva Bandaranaike, speaking at the ceremony, praised Myland Developments for its initiative to go public.
"Incorporated in 2017, Myland Developments has demonstrated promising growth in the industry and the steps taken by the company to enroll are laudable in developing the business interests of the company.
The real estate sector is experiencing impressive growth and it is important to have listed companies representing the sector, as the real estate sector is somewhat under-represented in the CSE market capitalization ".
Speaking at the event, Myland Developments Limited Chairman / Independent / Non-Executive, WD Premachandra, said, "Although Myland Developments has a shorter history, we have many success stories to share.
Of these, we consider this IPO and listing to be the most valuable event in our short history that we have achieved. All this because we wanted to become a responsible corporate citizen.
When we list the company, we know that regulators will be vigilant about the things we do. Most importantly, investors will be watching what we do and the market will reflect the value of the things we do.
We see this as a great opportunity for us to run our business in the right direction. This is the main reason why we listed the company in the market.
Commenting on the event, Premachandra thanked the SEC, CSE, Atarah Capital Partners, Sampath Bank and their attorneys and auditors for the support provided during the IPO. Commenting on the listing experience, he added, "With this investor funding what we have now, we are in a better position to leverage and better negotiate with banks and landowners to sell when we buy. So this is a great advantage that we have. Finally, I must thank all these 2,884 investors who trusted us and our company for having invested in this IPO.