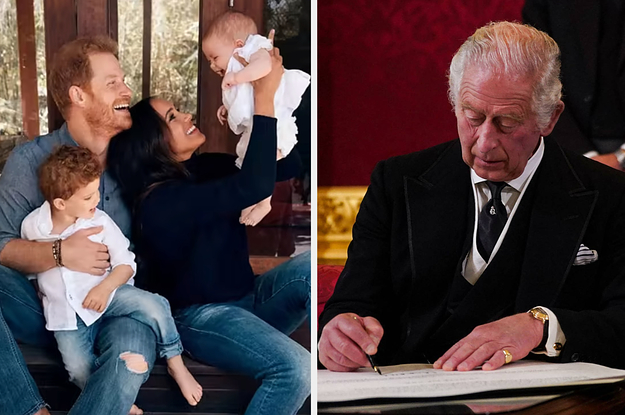 A key part of the intense public and media interest in whether Archie and Lilibet will receive royal titles is due to Meghan's allegations in her March 2021 interview with Oprah Winfrey that the royal family did not want her and Harry's children be princes and princesses.
"There is a convention – I forget if it was the George V or George VI convention – but when you are the monarch's grandson, then when Harry's father becomes king, automatically Archie and our next baby would become prince or princess, or whatever they were going to be," she told Oprah. "While I was pregnant they said they wanted to change the convention for Archie."
You can see why people are resurfacing this quote in light of the Palace's delay in announcing whether Harry and Meghan's children will have prince or princess titles. Especially given the fact that Meghan has explicitly expressed concern about "the idea that the first colored member of this family will not be titled the same as the other grandchildren would be".
There is, however, a big problem with the interview: Meghan's other remarks to Oprah reveal a fundamental misunderstanding of the historic 1917 Letters Patent. Meghan said she and Harry were explicitly told by the Royal Family that their child wouldn't be a prince, which she said "would be different from protocol."
Except it wasn't. Making their child a prince would have been unprecedented and outside the guidelines set by George V. The only reason William and Kate's children were all princes and princesses was because the Queen had issued Letters Patent. Did Harry and Meghan expect similar letters patent for their children at the time?
BuzzFeed News has reached out to the Sussexes for clarification.
However, Meghan's apparent confusion over how royal titles work won't mean anything if the Palace denies Archie and Lilibet HRH/prince/princess status – due to the way she addressed the issue in the interview. Oprah:
"You certainly must have had conversations with Harry about this and have your own suspicions as to why they didn't want to make Archie a prince," Oprah asked. "What are these thoughts? Why do you think that is? Do you think it's because of his race?… And I know that's a loaded question but –"
"But I can give you an honest answer," Meghan said. "During these months that I was pregnant, around the same time…so we have in tandem the conversation of 'He won't get security, he won't get a title' and also concerns and conversations about how dark his skin might be when he was born.
That's it. In the face of this quote, arguments about historical precedent will not matter to a large percentage of the public. Nor the fact that when asked about this conversation by Oprah, Harry said the remark was made by one of his family members "at the very beginning" of his relationship with Meghan, not during her pregnancy.
If the titles are denied to Archie and Lilibet, all that will matter to much of the population is the fact that Meghan saw it coming.