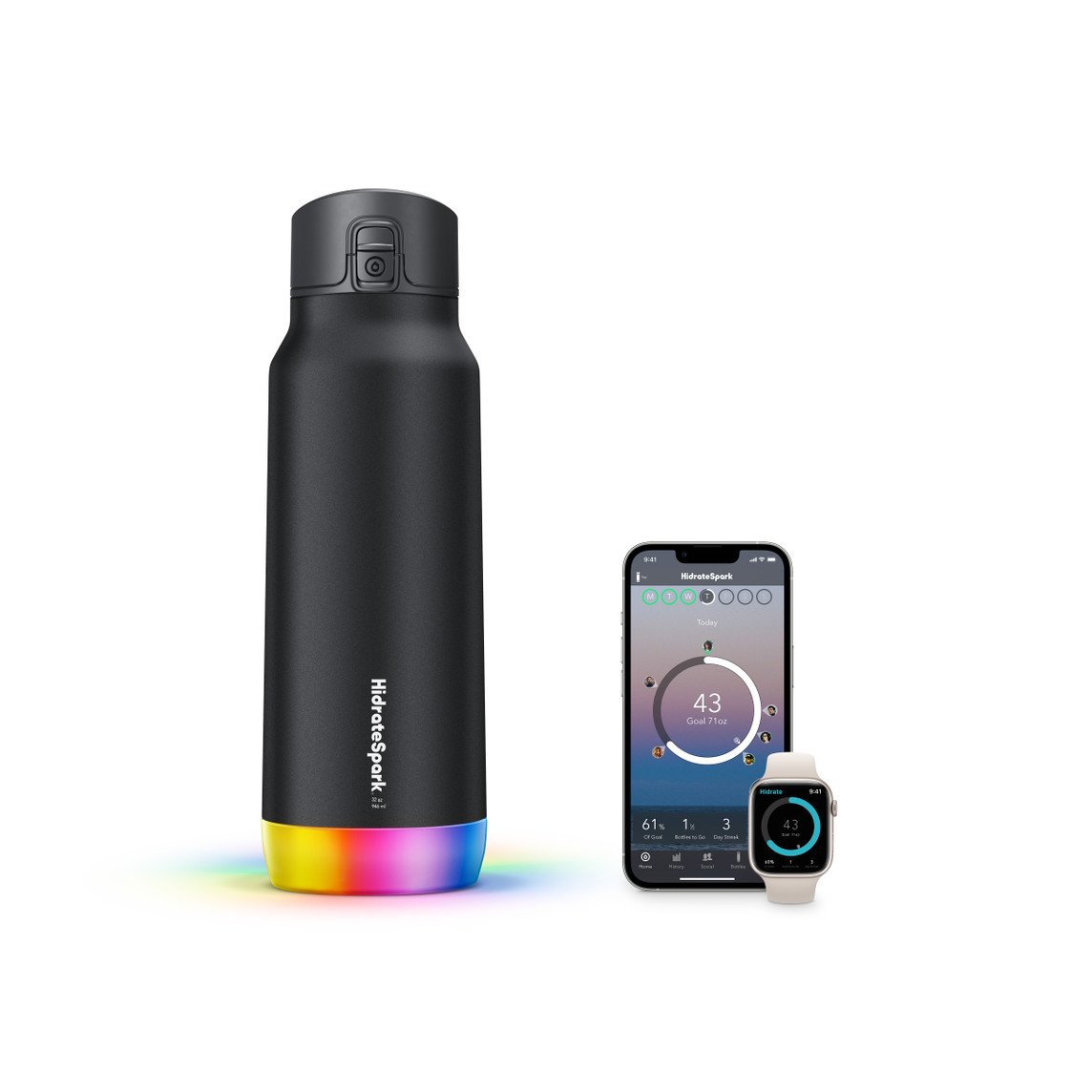 Apple's latest product in the accessories area of ​​its US website isn't another set of AirPods or a keyboard.
Apple includes third-party accessories for a number of product categories on its website, but this may be the first time it has offered a HidrateSpark-branded smart water bottle.
These smart water bottles, as the name suggests, keep you hydrated by tracking your water intake. To take advantage of the smart capabilities of this smart accessory, connect the HidrateSpark via Bluetooth to the Apple Health app.
HidrateSpark smart water bottles are now available exclusively in the United States. Indian buyers might have to wait a bit longer to get their hands on it.
What's in the Apple HidrateSpark Smart Water Bottle?
The HidrateSpark smart water bottle, available on Apple's website and retail stores, can track your daily water intake while syncing with Apple Health.
Using LED sensors at the bottom, the gadget helps achieve personalized hydration goals and provides signals to Apple Health whenever water is drunk.
To connect it to Apple Health, download the HidrateSpark app on your iPhone, iPad, or Apple Watch. Following account creation, the app will request access to Apple Health in order to track personal information and other statistics.
If the user drinks water from a source other than the HidrateSpark PRO bottle, it can be included in the data for a more accurate assessment of water consumption.
The bottles ensure that your water is BPA free. They are easily washable with dish water and the sensor can be cleaned with a damp cloth.
The Hidrate Spark 3 smart water bottle is available in three colors: white, yellow and black. It includes a CR2477 lithium battery with a lifespan of approximately six months. The water bottle measures 10.4 x 3 x 3.25 inches.
To use it on your devices, you must have iOS 13 or later, and your Apple Watch must be running watchOS 4.3 or later. It has a Bluetooth 4.0 connection. The smart water bottle, finger loop, battery and instruction booklet are all included in the box.
The HidrateSpark Pro Steel Smart Water Bottle is currently available in two colors: Black and Silver. The smart bottle has a vacuum-insulated stainless steel container and a rechargeable lithium-ion battery that lasts 10-14 days on a single charge and takes approximately 2.5 hours to recharge.
It supports Bluetooth 4.0 and Bluetooth 5.0 connections and can be charged via USB cable. The dimensions of the bottle are 11.3 x 3.8 x 3.8 inches.
To connect to the HidrateSpark app, users must have iOS 12.3 or later on their iPhone and watchOS 4.3 or later on their Apple Watch.
The HidrateSpark Pro smart water bottle is next, with a Tritan plastic seaglass body and green and black color options. To log into the app, the user must have an iPad or iPhone running iOS 12.3 or later, or an Apple Watch running watchOS 4.3 or later.
This water bottle has the same features as the HidrateSpark Pro Steel Smart Water Bottle and measures 10.9 x 2.8 x 2.8 inches.
What is the price of the Apple HidrateSpark smart water bottle?
The smart water bottles are now available in four types on Apple's US product listing website: HidrateSpark 3, HidrateSpark Pro Steel, HidrateSpark Pro, and HidrateSpark Steel.
The HidrateSpark Pro Steel is the most expensive of these models, costing $79.95, while the Pro version costs $59.95. The other two variants cost $69.95 each.
Read also :